Category: article
 4 mins ago by Keith Worrall 
Modified 4 mins ago at 4 mins ago

Sarah's Personal Best Musky Caught In Final Moments Of Minnesota's Season
By Ryan McMahon
In Minnesota it's always a toss-up between which will happen first — frozen lakes or the end of the musky season, which falls on December 1. The late stages of the musky season can be brutal at times whether it be freezing cold temperatures, snow in the boat, or just a painfully slow bite. This year in mid-October it felt like there was no chance we would be fishing from boats in late November, but somehow, some way, I found myself hooking up the boat and driving to the ramp on November 18. I was going to meet my friends Sarah and Don Ambli, a father/daughter duo who love musky fishing.
On the 1-10 confidence scale, I was at about a 5 when considering all of the conditions that day. The day was supposed to be above freezing (which is always a plus) and we had a strong south wind, which would limit the amount of spots I could fish. Something I was feeling good about though was the baitfish that I had. Dragging livebait was the fishing method that day and I was able to procure some nice, healthy suckers in the 16- to 17-inch range. Having good bait is key to livebait fishing.
After about four or five hours of dragging my prized suckers around some of the calmer weed edges on the lake, I decided to make a move for the late afternoon time window that is historically productive this time of year. We went to one of my favorite weed edges that was getting hit by the wind — which was starting to diminish just enough to allow me to work the boat effectively.
As we worked around the tip of a point we had a bobber slowly but deliberately go down. Working into the wind, I was able to simply stop the trolling motor and drift back into position. We got behind the fish as it was facing away from the weeds and Sarah hit it with a big time hook-set, placing the Stealth Tackle GT livebait rig perfectly in the corner of the mouth. She did a great job fighting the fish and in almost no time at all we a thick four-footer thrashing in the Drifter XL net.
This Twin Cities metro fish crushed Sarah's previous personal best! Such a fun fish in the waning moments of the day and a season that felt like it may not even last that long. I like musky fishing!
For more about fishing for Twin Cities area muskies, click here.
Special Tiger Musky Issue From Musky Hunter
Hybrid muskies, like the giant caught by Kristen Horrocks above, are an amazing, rare beast, and Musky Hunter's December 2020/January 2021 issue puts the focus squarely on them.
In feature articles, Jeff Van Remortel discusses tiger timing; Joe Weisner spotlight the giant hybrids of the West; and Research Editor Jordan Weeks delves into tiger biology.
In the regular column "The Catch," Editor Tony Grant reminisces about his most memorable tiger musky, a fish which has been caught numerous times from a northern Wisconsin lake. In fact, the tiger has been recreated in at least four or five replica mounts for anglers who have caught it.
Finally, in "Pattern of Interest," guides Steve Genson and Spencer Berman explore whether there really are patterns for catching more hybrids, or if we can only expect them to be an incidental catch.
Look for the December/January issue of Musky Hunter on newsstands, or subscribe here.
Have You Had It With 2020? If So, Get Ready For 2021

If you're like us, it would have been all right if 2020 ended six months ago. But with vaccines on the horizon to combat the pandemic, the outlook for 2021 is much better. Musky Hunter can help you get a jump on the new year.
Musky Hunter's December 2020/January 2021 issue features the annual Destinations section, with loads of ideas of where to go musky fishing in the coming season. You aren't the only angler who can't wait to hit the water in the new year, so use this guide to get a head start on others, whether you want to fish a southern water like Cave Run or travel to Canada, or somewhere in between.
In addition, the "Region to Region" section features fishing outlooks and predictions by such noted guides as Kevin Cochran, Kevin Pischke, Ken Trail, Vance Kaloz, Scott Donovan and Tim Barker.
Meet Guide Ty Sennett In Musky Hunter
Ty Sennett's legacy is already fitting in nicely with those of the legendary guides who have gone before him on the famous Chippewa Flowage near Hayward, Wisconsin. Though only 48 years old, Sennett has done it all. He grew up fishing the flowage, has made guiding his full-time career, and has developed a number of outstanding musky lures including the famous Pacemaker.
Meet Ty Sennett in Musky Hunter's December/January issue.
Outdoor Grips Introduces Ergonomics To Rods
Outdoor Grips' founder Aaron Techlin saw a need in the fishing industry. In fact, he could feel it.
An injury to his elbow while fishing a musky tournament left him wanting something more in his fishing rods. With time, he introduced the wildly-popular Jig Ripper and Revolution reel seat to the fishing industry.
Learn more about Outdoor Grips and the company's plans in Musky Hunter.
Check Out Musky Hunter's YouTube Channel
Get great musky tips from Musky Hunter Editor Gregg Thomas. Click here to subscribe to Musky Hunter's YouTube Channel and enjoy — and it's free.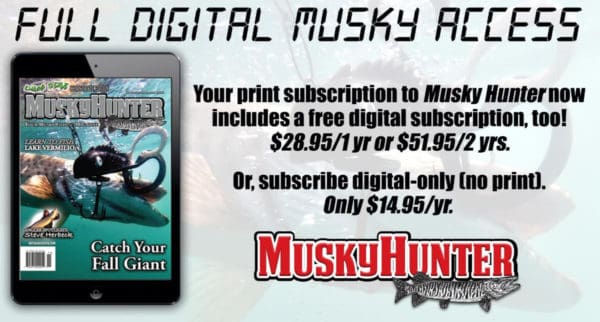 Get Print AND Digital Editions When You Subscribe
You asked for it and we now offer it. When you subscribe to Musky Hunter, you can receive both the print and digital editions for no extra charge. Better yet, when you subscribe you receive immediate access to our newest digital edition while you wait for your print issue to arrive in the mail.
If you prefer a digital subscription, you can now buy one for the low price of $14.95/year. You can buy your print/digital or digital-only subscriptions here.